There's something in Lindsay's apartment...
Cast: Melia Renee, Carly Jones, Ryan Allan Young
Official Selection
:  Screamfest 2015
In the wake of a violent windstorm that leaves her yard trashed, Lisa--a wife and mother of three--begins to re-examine her marriage and discovers that sometimes you have to go a little bit crazy to see the truth.
Cast: Shawn Lockie, Scott Roberts, Vanessa Dubasso, Nick Carew, Mitchell F. Martin
Official Selection:  Austin Film Festival, Hollywood Film Festival, Hollywood Reel Independent Film Festival, Studio City Film Festival, Action/Cut Short Film Competition (Finalist), Short of the Week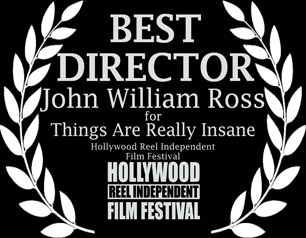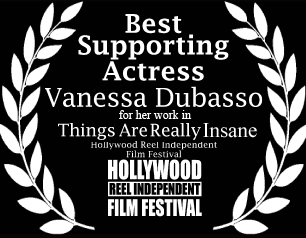 Nominee - Hollywood Discovery Award
Hollywood Film Festival 2012
When she was 11, young Faron Hallowell was sent away to a mental institution for shooting and nearly killing a local weatherman--a secret mission she claimed was assigned to her by alien beings. Now, five years later, released and rehabilitated, all she wants is a normal life. But when the events of her dark past return to haunt her, she'll have to use her uncanny abilities once again to protect her hometown and uncover the secret of her own identity.
Cast: Courtney Halverson, Catharine Scott, Carly Hayes, Lydia Milner, Sewell Whitney
6-year-old Haley Davis has had imaginary friends before, but until now she has never pretended to be one of them. On occasion, she will take on her new imaginary friend's personality, referring to herself by the name of Holly Goldman. As time goes on, her mother discovers that Holly Goldman might not be just another one of Haley's inventions.
Cast: Mandy Levin, Adair Tishler, Sara Stephenson, Jeff Meleski
Official Selection: The Method Fest, SoCal Independent Film Festival, Chicago Horror Film Festival, Philadelphia First Glance Film Festival, Toofy Film Festival, Eerie Horror Film Festival
Suzanne, more than anything, is terrified of the dark, which is why Sarah has to walk her home from her night class every Tuesday at 10PM. But tonight, Sarah has accidentally missed the meeting and Suzanne is nowhere to be found. In her desperate search to find her, Sarah discovers that there may be some truth to Suzanne's paranoid delusions.
Cast: Cathy Bethurem, Steven Schultz, Leslie Karpman
For Jill, a workaholic on the verge of a nervous breakdown, the stress of work becomes so great that she begins to have delusions of terror. But they may not be delusions.
Cast: Halla Timon, Caitlin Sedio
Official Selection: Slamdance 2004